"We don't do commercials here on NFL RedZone" – Scott Hanson, NFL RedZone host
While NFL viewership fell in the 2016 season, NFL RedZone has shown some strong growth, with millions of subscribers actively tuning in every week. What was once supposed to be merely a niche option for hardcore fantasy football fans has quickly turned into a premiere way to consume NFL games with plenty of exciting clips and no commercial breaks.
With the average NFL game only having about 11 minutes of actual game action, according to the WSJ, it makes sense that unless your team is playing and you want to watch that game exclusively, an option to watch only the day's biggest plays commercial free has some appeal.
But how many commercials a season does RedZone save us all from?
We ran some numbers this season and found that the average NFL game has between 60-65 minutes of commercials. Running that against two blocks of non-prime time NFL games each day, there are two hours and five minutes of commercials during the main 1PM and 4PM game blocks.
Enter NFL RedZone.
For those less familiar, the subscription service offers a way to watch games when the offense is in the red zone of any given game, about to score. Or if no team is close to scoring, the network curates the best games at any given moment and broadcasts those. This service is available during the two main blocks of games, providing about seven hours of commercial-free football.
RedZone saved us from over 35 hours of commercials this season.
Multiplied out over 17 weeks, RedZone saved fans from over 35 hours of commercials this season.
While networks aren't necessarily increasing the total amount of commercials per game, we recently ran a survey of just more than 500 people that suggests that the majority of fans perceived the opposite in 2016. Most fans of the NFL now believe networks have increased the number of ads per game, which isn't entirely true, as the metric has remained pretty flat over the past few seasons.
68.1% of people said they believe the TV networks have increased the number of ads during football games
22.4% of people believe that NFL games have about the same amount of ads
4.5% of people believe that the number of as has decreased
5% of people weren't sure or didn't know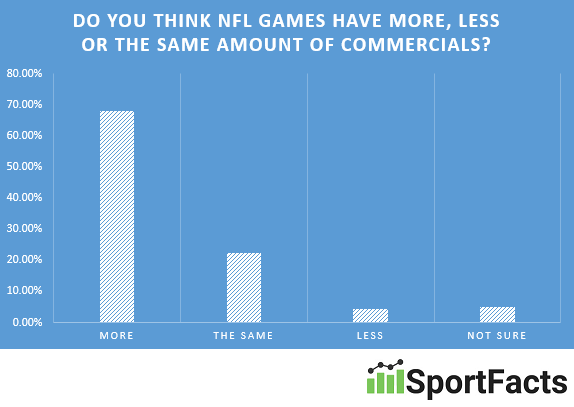 Regardless, we now live in a world where services like Netflix have made commercials seem like even more of a burden, likely causing this perception change.
Baltimore Ravens owner Steve Bisciotti has urged the NFL to fix the number of commercials during games, as he believes there to be correlation between this perception of too many advertisements and a decline in ratings.
We will keep an eye on these numbers in the coming seasons to see how the NFL reacts to this developing perception.