At the beginning of the year, the media reported on widespread ratings decline for NFL games, citing a variety of reasons including the 2016 presidential election taking up TV time, protests from NFL players making the game seem political, and recent bad press about concussions.
We wanted to see if this ratings decline remained consistent throughout the entire season, so we pulled data on the individual ratings of every nationally broadcast regular season game, including Thursday Night Football, Sunday's Game of the Week, Sunday Night Football, and Monday Night Football for the last three seasons.
Comparing the 2014, 2015, and 2016 seasons, it is pretty obvious that there was a big decline especially between last year and this season, considering the slight uptick from 2014 to 2015.
Here are the ratings: 
In 2014, each nationally televised game averaged 17.7 million viewers.
In 2015, each nationally televised game averaged 17.9 million viewers.
In 2016, each nationally televised game averaged 16.5 million viewers.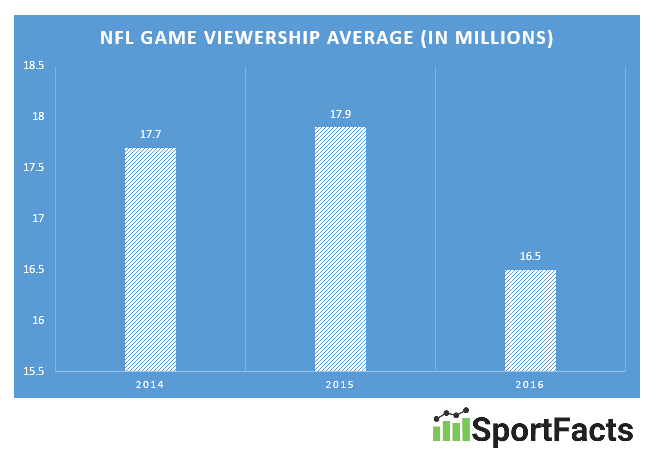 We're not certain there's one reason behind this drastic decline for the 2016 season, but it does seem likely that it's a mixture of several things, with clear signs that games around the election took a big hit in ratings. If ratings increase during the same time next year, this might offer a bit more proof for the above case.
Here are some other fun facts from the data:
The lowest rated game of the past three seasons was the 1.6 million (estimated) streaming viewership of the Bills/Jags game on Yahoo!
In the 2016 season, the lowest rated game was the New York Giants playing the Los Angeles Rams in London, with 3.7 million viewers.
The highest rated game this season was the Dallas Cowboys playing the Washington Redskins, with over 35 million viewers (on Thanksgiving, which makes sense).
In 2015, the highest rated game was the Thanksgiving game between the Dallas Cowboys and the Carolina Panthers with 32.5 million viewers.
In 2014, you'll notice a common theme, with the Cowboys playing the Eagles pulling in over 32 million viewers as well for the highest rated game of the year.