In Seattle, we're pretty biased, Century Link Field, aka "The Clink," is pretty spectacular, especially for evening games, with the sun going down over the Puget Sound, the lights of the stadium radiating south of downtown, with skyscrapers a stone's throw away.
But removing this bias, what stadiums actually have the best "experience?" We polled fans of every team, and asked for how much they enjoy the experience, no matter the talent of their team, of attending a game. Below you'll find the favorability ratings for the top and bottom five stadiums, as rated by the fans of the home teams.
Bottom Five Fan-voted Stadiums
32) StubHub Stadium – Los Angeles Chargers: 38% Favorability Rating
Not really a big shocker here as StubHub Stadium is a small, temporary location for the Chargers that's attracting more "away fans" than Chargers fans. Truthfully, it's actually hard to give this one an official stamp of statistical significance, as it was hard to find enough people to even vote on this one. Attendance issues in a tiny, dated stadium, complaints that very few people in Los Angeles want the Chargers there, and one of the league's least popular owners. There is plenty of drama and lots of rumors swirling around about the Chargers' fate, so we'll see what happens with this team staying in LA, but the renderings of their future home are pretty awesome.
31) FedEx Field – Washington Redskins: 40% Favorability Rating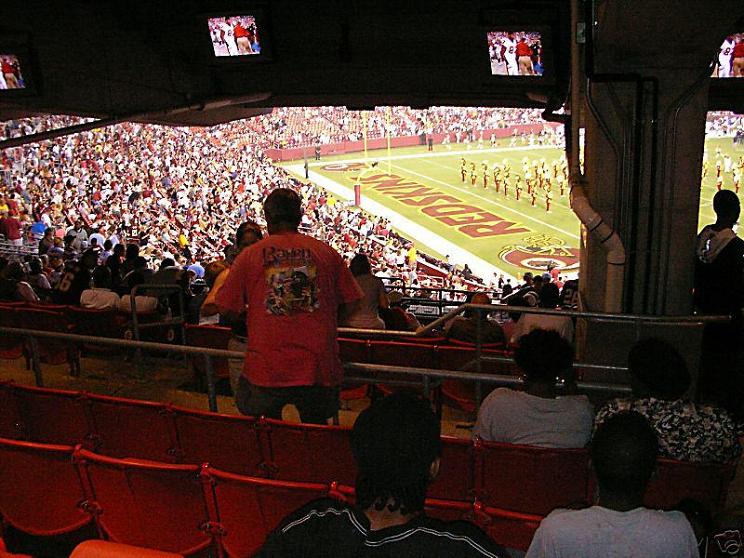 There are bad seats, and then there are bad seats. FedEx Field boasts some of the worst seats in any NFL stadium, with pillars and chain link fence blocking off entire sections of the field view for the fans unlucky enough to sit there. Apparently their unpopular owner decided that shoving more seats into areas where this happens was a good decision. Many of the anecdotal comments from respondents also kept referencing RG3's injury-prone career, blaming the field's condition for this misfortune. Not a good look.
30) Oakland Coliseum – Oakland Raiders: 48% Favorability Rating
Look at this mess in the bowels of the Coliseum. Players have to walk through this to go to and from the field. Smh. pic.twitter.com/z87Q1ObsLp

— Courtney Cronin (@CourtneyRCronin) October 16, 2016

"It's a piece of sh*t, but it's our piece of sh*t" one person replied – This was the general consensus of Oakland Raiders fans responding to this question. No doubt, splitting time with a baseball team is a timeshare that nobody wants, and the flooding issues have remained a problem. But we wouldn't risk actually making fun of The Coliseum to a member of The Black Hole, they love-hate this building more than any other team's fans might with their respective mediocre fields. Some negative votes commented that they can't stand going to games anymore, knowing that the team is moving soon as well.
29) Soldier Field – Chicago Bears: 51% Favorability Rating
Similar to the Oakland Coliseum, Soldier Field has a "don't you dare talk trash about how bad our football field is, we like it that way" aura to it among fans. Alongside that, anytime we run surveys, there are two constants. First, fans of teams in the NFC East always work the hardest to grief their respective division rivals' responses. Second, Chicago Bears fans have the best replies to anything we ask with a "get bent, pollster" attitude to our questions, which we can appreciate.
28) Levi's Stadium – San Francisco 49ers: 52% Favorability Rating
Everyone we asked loves Levi's Stadium in theory, but we saw a major hit in location. We also suspect a strong hatred of their current owner might have reflected in the responses here. Levi's Stadium is Jed York's monument, and from some of the anecdotal commentary, people who gave this stadium low marks complained about the owner almost as much as how far it is from San Francisco.
Top Five Fan-voted Stadiums
5) Everbank Field – Jacksonville Jaguars: 71% Favorability Rating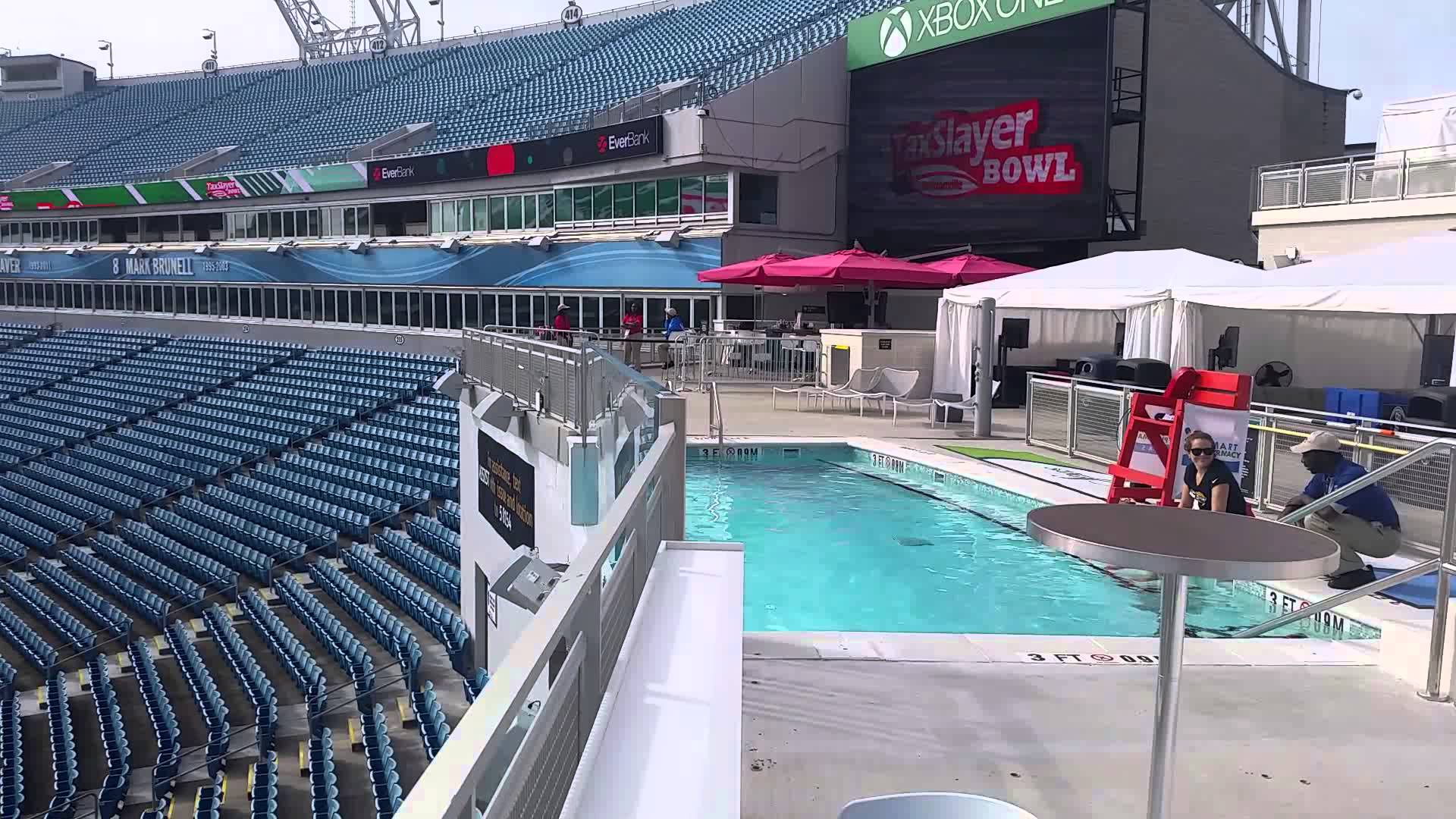 Fans definitely can't hate Jacksonville Jaguars owner Shahid Khan and his amazing mustache. And, also, ya know, showing a lot of dedication to the team, most notably an impressive renovation. A lot of fans thought Everbank was in pretty rough shape, but it does seem like Jaguars fans are much happier with the recent updates. Who wouldn't want to rent a pool to watch a game? Here's hoping they get a good scrubbing between usage.
Related: Here are the best times to visit Jacksonville, FL
4) Century Link Field – Seattle Seahawks: 73% Favorability Rating
Controversially engineered to be loud, plenty of craft beers and delicious local food all make for a great game experience. Love it or hate it, the fans come out in full force for games, leading the league in opponent false starts since opening The Clink in the mid aughts. Located downtown and right next to the water, the views from the south-side of the stadium are some of the best in the league. A lot of fans of other teams comment on the positive buzz in the stadium as well.
Related: Here are the best times to visit Seattle, WA
3) Mercedes-Benz Stadium – Atlanta Falcons: 78% Favorability Rating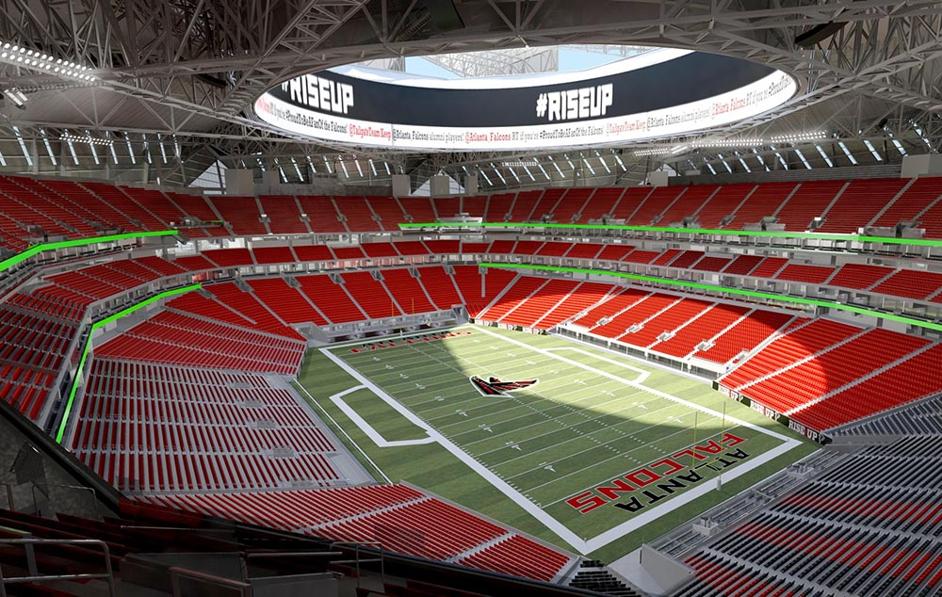 Brand new, shiny stadiums probably get a little bit of a freshness bias here, but the fans have spoken and this stadium is popular with Falcons fans. And according to Pardon My Take… ok we won't go there. Fans love this thing, most commenting on both the food options at great prices, and the general atmosphere being designed for a great experience of going to a game, no fake noise required. Now if only someone could show us the way out of here…
Related: Here are the best times to visit Atlanta, GA
2) Lambeau Field – Green Bay Packers: 81% Favorability Rating
It's hard to argue with a classic. Lambeau Field boasts some of the coldest games of the year, and the Packers' fans never fail to show up in full force, in below-freezing temperatures, shirts optional. This historic monument tops many people's lists as the most visited stadium for football fanatics who want to be a part of history. While many stadiums boast new technology, gourmet food, and luxury seating, Lambeau represents the "classic" football field feel.
Related: Here are the best times to visit Green Bay, WI
1) AT&T Stadium – Dallas Cowboys: 83% Favorability Rating
When your owner is a billionaire with an ego bigger than Texas, it's hard not to imagine him going all out building what has been nicknamed "Jerryworld" into something spectacular. Everyone that responded with regards to AT&T Stadium had at least some positive things to say about it, with those who had traveled to more than a few stadiums for games commenting that there's nothing quite like a home Cowboys game. It truly is a spectacle.