Fantasy football leads to 2x more regular viewing of NFL games
NFL fans who play fantasy football watch 4.5 more hours of football per week on average (8.7 total hours of watching NFL games a week)
16% of NFL fans regularly play fantasy football
78% of people who start playing fantasy football state that their NFL viewership increases
There are a lot NFL fans – TV ratings suggest that over 60% of Americans tune-in on occasion throughout the season to watch games, the largest percentage for any sport in the US. But then there are NFL fanatics, who watch pre-game coverage, flip between RedZone and their favorite team's game, keeping one eye on their fantasy football app, and then immediately turning to social media to discuss and review highlights throughout the day.
It's possible to watch close to 20 hours of NFL games a week, with Thursday Night Football, Sunday coverage all day, and then Monday Night Football. There are plenty of people who do this (about 5% of NFL fans surveyed said they try and watch every time slot).
So what drives these all-day viewers into a weekly binge of gridiron? The biggest non-team specific incentive to watch more football, it turns out, is active participation in a fantasy football league.
We wanted to learn more about exactly how much more being active in fantasy football encourages increased viewership, so we took a survey of 1,142 US-based NFL fans and found the following numbers:
Of those who call themselves NFL fans:
Do you play fantasy football
Yes
16%
No
80%
Didn't answer
4%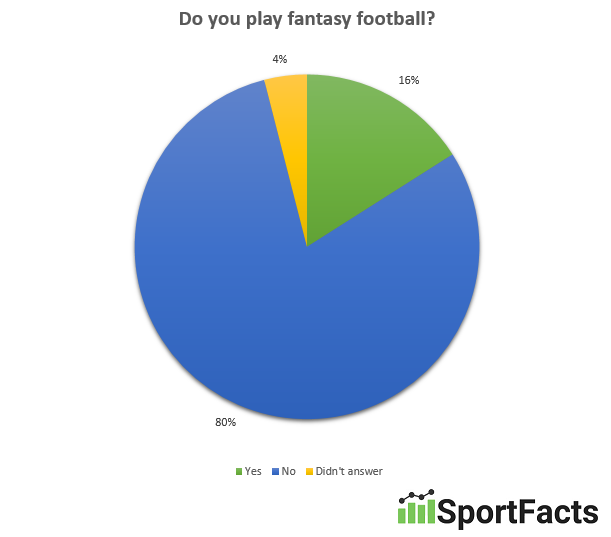 How many hours a week do you spend watching NFL games?
Plays fantasy football
8.7 hours
Does not play fantasy football
4.2 hours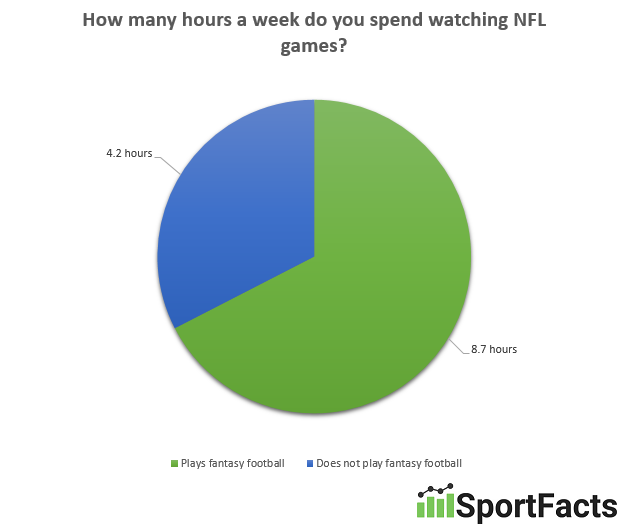 So what came first, the fanatic or the fantasy football player?
The majority of fans stated that when they started playing fantasy football, the number of hours they spent watching NFL games went up. There's nothing quite like being down by a few points with your WR2 starting in an otherwise personally meaningless Monday Night Football game be able to draw you in to watch, right?
When you started playing fantasy football, did you start watching more games?
Yes
78%
No
16%
Not sure
6%